Salwar kameez comes in different patterns and designs. Every woman cherishes wearing this beautiful attire at special occasions and functions, some of them wear it as casual wear attire. The ones who regularly wear this attire can manage and flaunt it anywhere they wish but it's a bit difficult for those who wear it occasionally. So if you are wearing it for the first time or after a long time then you should choose a comfortable one that is easy to manage and wear.
You should keep some points in mind while you wear attire. It can be helpful for newbies and the ones that are confused about what to wear. As it is a traditional outfit classical and simple designs will gather you a lot of compliments. For a classy and comfy look, you should opt for a Patiala or dhoti salwar suit. Check on how to wear a classical salwar kameez.
The Kurti

The first piece of cloth in this attire is the Kurti. It should be attractive and decorated with some beautiful embroidery or prints so that you can get a fabulous look when you wear it. It can be printed with some adoring prints and motifs using various techniques or can be embroidered with stones and diamonds. A beautiful block printed Kurti having traditional motifs or some flowers and paisley patterns can be a great pick for summers. Digital printed Kurtis are also a good choice for You.
The ones having a simple neckline and short sleeves can be an elegant choice. Some details at the neck and at the bottom of the Kurti give it an attractive look. You can also go for a full sleeves pattern having some wrinkles at the wrist. The length and measurement of your Kurti should properly match with your salwar otherwise it will ruin your look.
The Salwar

The list of pants and salwar is very long but if you are willing for a classy look then you should choose a flared salwar. A Punjabi salwar having several pleats and a nice flare can give you a fresh feel and rich look. It is easy to manage and gives free movements. You can also choose to wear a churidar salwar that is loose at the thigh and fitted from knees to ankle making several wrinkles or churis at the end. A dhoti that is similar to the Patiala salwar can also be worn with a short Kurti for a classical look.
But the most effective and flawless one is a Patiala salwar paired with a knee-length Kurti and a matching dupatta. The salwar can be plain or may have some beautiful prints like polka dots or other small motifs making an elegant attire. This printed salwar is paired with a plain kurti having fewer prints at the neck and sleeves to match with the salwar.
Also Read: Benefits of Using A Local Cloth Manufacturer
The Dupatta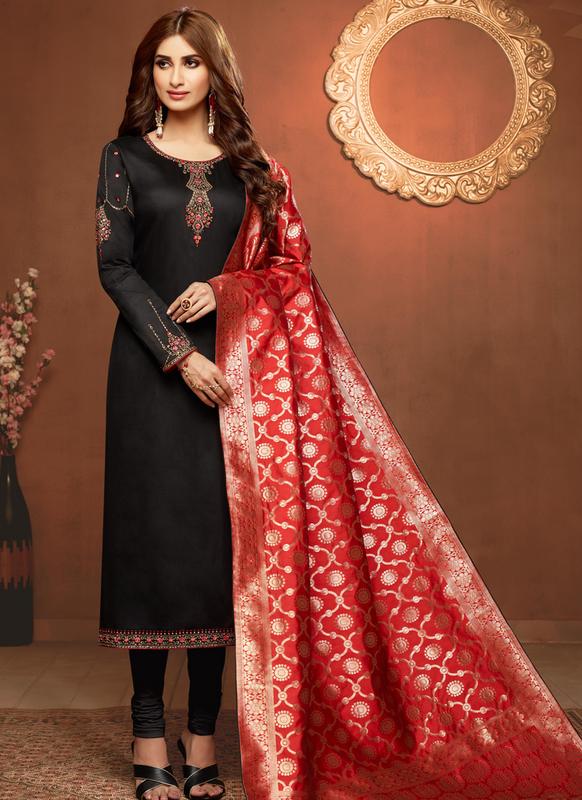 A beautiful dupatta can change the entire look of your outfit. It should be shimmery and glowy so that you get a glorifying look while wearing it. A colorful dupatta having beautiful laces and borders will look really awesome with a plain salwar and kameez. A gorgeous banarasi silk dupatta having intricate work with golden and silver thread in a smooth texture and shiny appeal can be paired with a stunning georgette salwar kameez for a flawless look. Pink dupatta and black salwar kameez will make a drastic pair.
Printed dupattas are also eye-catchers. The dupatta having floral and leaf prints paired with a cotton salwar kameez gives a flawless look to the wearer. A bright-colored salwar suit paired with this printed dupatta makes an interesting outfit. The traditional bandhani prints and leheriya prints are also a delightful pick for newbies.
Accessories
Pair some beautiful accessories with the attire and get a complete look. Here are some of the jewellery that can be paired with this stunning attire.
Earrings: A beautiful earring that is studded with stones and pearls will look perfect with a stylish salwar kameez. They can also be decorated with colourful stones and thread tassels that can match with any attire.
Rings: A small ring worn on the finger can give you a glorifying look. The rings may have colourful stones and diamonds so that they can match the attire. You can also wear expensive gold or silver rings with this.
Necklace: A kundan haar for a traditional look or a floral choker with pearls is a perfect accessory to wear with the outfit. They can be long or short and paired with the outfit as per the neck design of the kurti.
Bracelet or Bangles: A pretty bracelet or matching bangles paired with this attire will complete your traditional look. You can opt for thin chain bracelets or broad ones that are decorated with colourful stones for a ravishing look.
Anklet: In Indian culture, silver anklets are worn with every type of traditional dress either its a salwar kameez or a saree. Nowadays artificial anklets having colourful stones and hangings are worn with salwar suits. Wear these accessories and be the limelight of the party.
Footwear
Flat footwear is always the best choice but for tall and slim look girls prefer to wear heels. They are fancy and attractive but when it comes to comfort than a flat pair of shoes wins. A pair of colourful mojaris or juttis perfectly matches with the traditional Patiala salwar suit.
Sandals that are studded with diamonds can be worn at weddings and special functions. Choose the favourable one and complete your entire look.
If you are not getting the desired outfit in markets then don't waste your time and get them from online stores. You will come across a collection of wholesale salwar kameez and choose the desired one in just a few clicks. You get a lot of variety and color choices here with amazing patterns and designs. Fabric choices and amazing prints are also available so that you can differentiate and choose the best one.